Young musicians from across regional NSW meet at Sydney Opera House for Staatskapelle Berlin education project
Two students from Tamworth Regional Conservatorium of Music will take part in orchestral tutorials, rehearsals and a performance with leading international musicians from the Staatskapelle Berlin for a three-day education project enabled by the Sydney Opera House.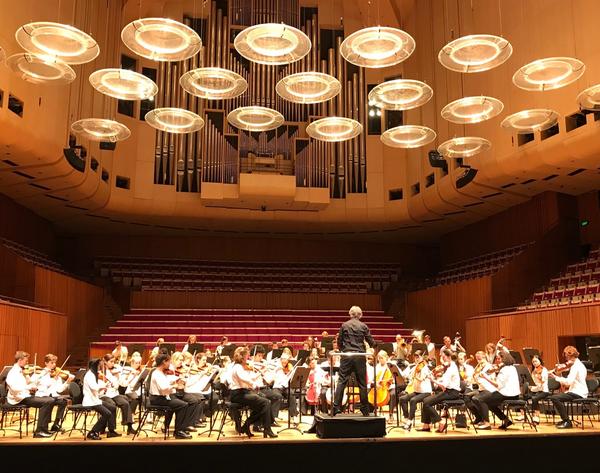 Thirty young musicians from regional towns across NSW will travel to Sydney from 24-26 November for three days of intensive tutorials and rehearsals, culminating in a performance with musicians from the world-famous Staatskapelle Berlin orchestra on the Concert Hall stage of the Sydney Opera House.
The aspiring classical musicians range in age from 12 to 18 years, and are all members of Regional Youth Orchestra NSW (RYO), an audition-based orchestra of talented young musicians established in 2016 by the Association of NSW Regional Conservatoriums.
RYO draws its players from the NSW Regional Conservatoriums, a network of 17 regional music schools funded by the NSW Government to provide high quality music education for regional schools and communities.
Augustine Mundele-Turner and Eleanor George will be representing Tamworth Regional Conservatorium of Music at this exciting event.
On Saturday 24 November, the students will work closely with 10 Staatskapelle Berlin musicians, who will give the young players tutorials on selected movements from Brahms Symphonies. Their rehearsals will be conducted by Staatskapelle Berlin Music Director, Victorien Vanoosten, who will also conduct their final performance. The young musicians will also experience the thrill of sitting in on a Staatskapelle Berlin rehearsal conducted by Maestro Daniel Barenboim, as well as attending the opening concert on Sunday 25 November.
On Monday 26 November, the project will conclude with a concert of movements from Brahms Symphonies performed by 30 Staatskapelle Berlin musicians alongside RYO students and additional tertiary students from the Sydney Conservatorium of Music, to an invited audience of project partners, family and friends in the Opera House Concert Hall.
"The Association of NSW Regional Conservatoriums has forged wonderful partnerships with a number of leading music organisations," says President of the Association of NSW Regional Conservatoriums, Anita Bellman.
"This exciting project sees the Sydney Opera House and the Staatskappelle Berlin collaborating with our youth orchestra to provide them with some amazing opportunities."
Bridgette Van Leuven, Head of Children, Families & Creative Learning at Sydney Opera House says: "The Opera House's Children, Families & Creative Learning team is proud to continue our ongoing partnership with RYO with the support of our classical music donors. Through this education project with Staatskapelle Berlin, we hope to inspire young classical musicians across regional NSW by providing accessible opportunities and professional pathways for them to pursue creative endeavours and lifelong engagement with the arts."
Bringing the students together for this inspiring program of activities in Sydney has required months of planning on the part of the Sydney Opera House and the Association of NSW Regional Conservatoriumn.
"We have young musicians coming all the way from Coffs Harbour in the north and Albury down south, as well as from Armidale, Tamworth, Central Coast, Bathurst, Orange, Dubbo, Wollongong and the Upper Hunter," says RYO conductor Patrick Brennan, who is also Chair of the Association's Performance Projects Committee.
"At previous orchestral projects at the Sydney Opera House, the students gained real insight into the life of a professional musician and several decided to pursue music as a career as a result. I'm sure this experience will bring similar inspiration to our young musicians."
MEDIA ENQUIRIES: for interviews and more info please contact
Noelene McGrane, Director/CEO, Tamworth Regional Conservatorium of Music
0467666914 / nmcgrane@thecon.com.au
Vivienne Winther, Regional Youth Orchestra NSW
0400 795 443 / nswryo@gmail.com
Georgia McKay, Senior Communications Manager, Sydney Opera House
0466 223 293 / gmckay@sydneyoperahouse.com
Photos:
Augustine Mundele-Turner (violin) and Eleanor George (French Horn)
Tamworth Regional Conservatorium of Music

Regional Youth Orchestra NSW at Sydney Opera House in 2017
https://www.facebook.com/ryonsw/